Swamp Juice
Bunk Puppets (Australia)
Winner, Total Theatre Award, Edinburgh Festival Fringe 2011
Critics' Pick by The New York Times
"Innovative, memorable, fun" ── The Times, London
See shadow puppets whizz around in 3D!
Bickering snails, a neurotic snake and an opera-singing mouse. Welcome to a swamp like no other. Using shadow puppets made from bits of rubbish, Bunk Puppets creates an imaginative (and sometimes scary) tale of one man's romp through a swamp. Prepare to be astounded as shadows leap off the screen and dash around you in the 3D finale. You may watch Jeff from Bunk Puppets as he manipulates the multiple puppets in front of you, and even become a puppeteer yourself as you laugh and scream at this uproarious show. Watch out for the jellyfish too!
Featuring original music played live by Manny Fox
Sai Wan Ho Civic Centre Theatre
Map
16-17.7 (Thu - Fri)

7:30pm
$240, $180*, $140*
*Some seats may have a restricted view
North District Town Hall Auditorium
Map
18.7 (Sat)

7:30pm

19.7 (Sun)

2:30pm & 5pm
$160, $120*
*Some seats may have a restricted view
Shadow Puppet and Physical Theatre

Approx. 1 hour without intermission

Best for ages 6 and above
(Children under the age of 3 will not be admitted)
Friendly Reminder
Photo: Andrew Wuttke
Artist's Website: www.bunkpuppets.com
Artist's Facebook: http://www.facebook.com/pages/Bunk-Puppets/106564726064409

This project has been assisted by the Australian Government through the Australia Council, its arts funding and advisory body.
Workshop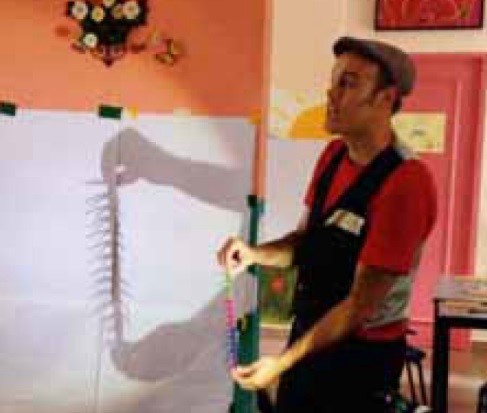 Junk-made Shadow Puppets
Full
A big bird? A monkey? Or a unicorn? With silhouettes, it's all up to you! Puppeteer extraordinaire Jeff Achtem shows how creativity and imagination can turn household bits and pieces, including cardboard, straw, and feathers, into a host of off-the-wall characters. There's also the opportunity for a shadow show starring your new action heroes!
For Children
Sai Wan Ho Civic Centre Art Studios
Map
17.7 (Fri)

11am-12:30pm,
2:30-4pm
Child $80*

Best for ages 8-11
(Quota : 30)
For Families
North District Town Hall Function Room (1)
Map
Best for ages 6-8 and their parents
(Quota : 30)
Friendly Reminder
In English with Cantonese interpretation

*Applicable to full-time students, senior citizens aged 60 or above, people with disabilities and their minder, and Comprehensive Social Security Assistance recipients.

# Applicable for family workshops only