The Forest of Grimm
La Maquiné (Spain)

Best Show for Family Audiences, 2014 Rojas Theatre Awards (Premios Teatro de Rojas),
Best Children's Show, 2014 MAX Awards for the Performing Arts, and
2013 Andalusian Theatre Awards (Premios del Teatro Andaluz), Spain
"This show is alive, fascinating and builds the imagination to all who see it" - Doce Notas, Spain
A dreamy retelling of the Brothers Grimm's timeless classics
A little fairy leads the way into an enchanted forest where Sleeping Beauty, the Frog Prince, Tom Thumb, the Wicked Queen, and other famous characters from Grimm's Fairy Tales await. However, in this unspoken, music-rich reinterpretation of the familiar stories, the world view appears a little different. Here, a dwarf eats Snow White's poisoned apple, and Little Red Riding Hood makes friends with the Big Bad Wolf!
With Ravel's evocative Mother Goose Suite, specifically written for children, at its heart and dextrous use of puppets, projections, and ingenious props, La Maquiné melds harmony, humour and eye-catching images into a tapestry of emotive scenes and magical happenings. A poetic and inspiring journey into a universe beyond words.
Audience Tip: Learn about the original stories before the show for an even more meaningful theatrical experience!
Ngau Chi Wan Civic Centre Theatre
Map
30-31.7 (Thu - Fri)

7:30pm
$240, $180, $140
Tsuen Wan Town Hall Cultural Activities Hall
Map
1.8 (Sat)

7:30pm

2.8 (Sun)

2:30pm & 5pm
$180*
* Some seats may have a restricted view
Multimedia Theatre

Approx. 1 hour without intermission

Best for ages 5 and above
(Children under the age of 3 will not be admitted)
Workshop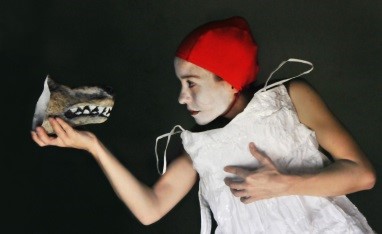 Playing in the Forest Theatre Workshop
Masks are a great way to look at life through new eyes. Here, youngsters work in small groups with members of La Maquiné to make simple masks based on familiar fairy tales before combining them with movement and music to create fresh adventures.
Ngau Chi Wan Civic Centre Dance Practice Room
Map
29.7 (Wed)

2-3:30pm,
4:30-6pm

31.7 (Fri)
Child $80*
Best for ages 6-8
(Quota per workshop: 30)
Friendly Reminder
In Spanish with Cantonese and English interpretation

* Applicable to full-time students, senior citizens aged 60 or above, people with disabilities and their minder, and Comprehensive Social Security Assistance recipients