Drumblebee
The Quatuor Beat (France)
Winner of the 2012 Public Award of the Young Audiences Music Awards (YAMA) in Brussels and the Special Jury Award, Berlin Junge Ohren
"A stunning journey through the world of rhythm" - Kreiszeitung, Germany
A wacky panorama of percussion where mallets fly like bumblebees!
Four dashing percussionists become moonstruck, the cue for a host of humorous routines involving different instruments and rhythms. Creativity meets astounding teamwork as the madcap musicians use virtually everything - even their own bodies - to tap out fresh twists on Boléro, Omphalo Centric Lecture, and other favourites in their quest.
Employing drums, cymbals, triangle, marimbas, vibraphones, glockenspiel, and more, multi-award-winning maestros The Quatuor Beat bring together great music and laughter in their interactive and highly entertaining show. Look and listen out for a phenomenal rendition of Rimsky-Korsakov's Flight of the Bumblebee too, as this striking gig hits all the right notes with spectators big and small!
Hong Kong City Hall Concert Hall
Map
$260, $200, $140*
*Some seats may have a restricted view
Sha Tin Town Hall Auditorium
Map
$240, $180, $120*
*Some seats may have a restricted view
Music

Approx. 1 hour without intermission

Best for ages 5 and above
(Children under the age of 3 will not be admitted)
Workshop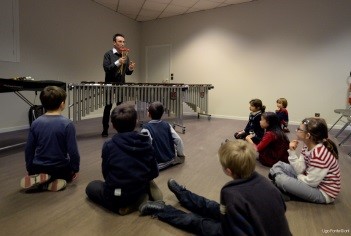 Inventive Percussion Music Workshop
Full
Learn through demos from the zany French quartet about the multitude of amazing instruments in the percussion family and find out why different coloured mallets are used. You may even get to try some of the instruments yourself!
Hong Kong City Hall Recital Hall
Map
31.7 (Fri)

2-3:30pm,
4:30-6pm
$80*

Best for ages 8-12
(Quota per workshop: 30)
Friendly Reminder
In French with Cantonese and English interpretation

* Applicable to full-time students, senior citizens aged 60 or above, people with disabilities and their minder, and Comprehensive Social Security Assistance recipients